"It's very clear to me and it's very clear to anybody in this room that deals with local control, the state wants to take over," said Colorado Springs mayor John Suthers, who attended the speech and was recognized by Polis for his efforts to increase public safety. "They're putting it in the guise of housing and affordability. But make no mistake about it, they want to control land use from the state capitol and that's a pretty scary prospect for most of us in local government."
Suthers' biggest concern is that more state authority could potentially disenfranchise regular Coloradans, by taking away their power to object to local development decisions.
Republican lawmakers generally echoed the concerns about local control, while saying they were glad to hear Polis talk about housing affordability in general.
"If he wants to work to streamline how we get houses out of the ground, that would be wonderful. However, that still is stepping on the toes of our municipalities," said House Minority Leader Mike Lynch. "The municipality where I come from in Wellington does things substantially different than Arvada or Aurora or Denver. And the needs are different for those folks, and so there isn't a one-size-fits-all for the rural parts of the state, that's for sure."
However, Polis framed his housing policies as empowering private property owners, by giving them more power over what they can build on their land. And Senate President Steve Fenberg said the state has a role to play in helping make the state more affordable.
"It needs to be the right kind of housing, in the right places. And that's where city zoning and land use issues sometimes can get in the way," said Fenberg, a Democrat. "It doesn't mean they don't want affordable housing. It just means that sometimes a city tackling zoning and land use as a city pushes problems to other communities and doesn't think about it in the long term."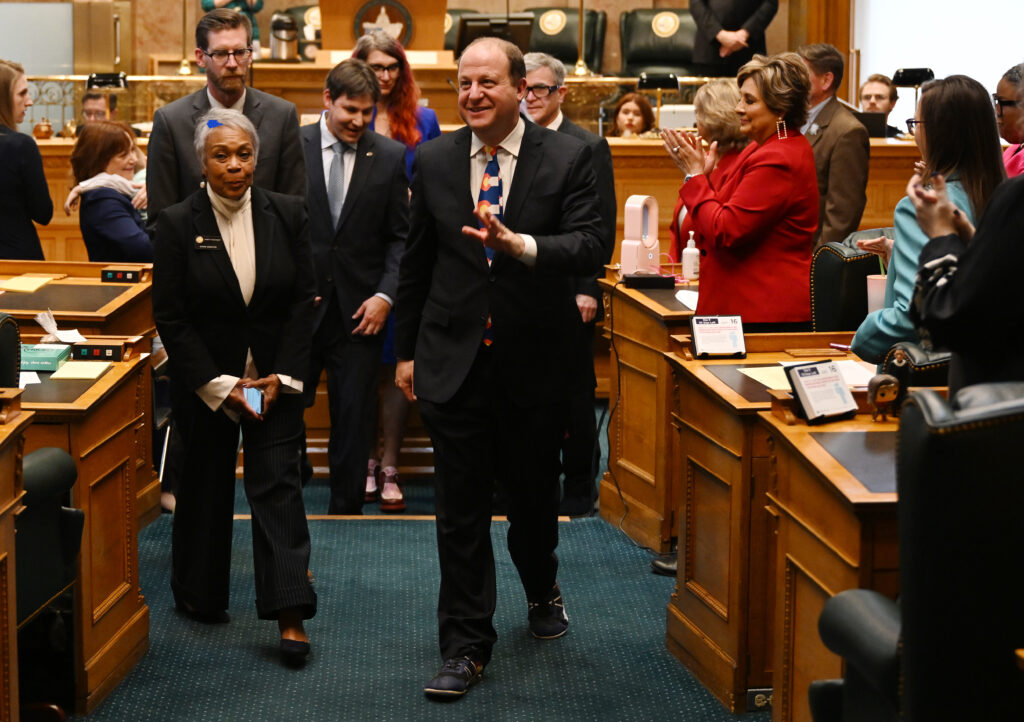 On criminal justice: 'More resources for local law enforcement'
In his address last year, Polis pledged to make Colorado one of the ten safest states in the nation, a theme he returned to in this year's speech.
Polis threw his support behind strengthening penalties for auto theft, broadening Colorado's so-called red flag gun law by expanding who could file Extreme Risk Protection Orders and supporting law enforcement.
"I'm proposing an additional package that will provide even more resources for local law enforcement officers and community organizations doing work on the ground," said Polis.
Republican state Rep. Matt Soper of Delta gave Polis a standing ovation during this part of his speech, but warned afterwards, that "the devil's in the detail."
"The governor gave a lot of broad brushstroke policy ideas, (but) not so much of what's actually gonna happen and what he's actually pushing for behind the scenes."
Across the aisle, some Democratic lawmakers were concerned about what Polis did not say in this section of his speech; the governor did not not highlight criminal justice reform, something that has been a priority for many of his Democratic colleagues in the legislature.
"If we're going to say that the state needs to be (among the) top 10 safest spaces or places, we need to also be sure that the criminal justice system doesn't create victims," ​​said Democratic State Rep. Jennifer Bacon , the Assistant House Majority Leader.
Her district includes Denver's Montbello neighborhood.
"And we need to be able to talk about how folks are experiencing this — particularly people in my neighborhood,"
Republican state Rep. Gabe Evans, of Fort Lupton, doesn't think any of Polis' proposals will bring down crime because of the "major morale crisis" in law enforcement, which he believes Democrats have caused.
"Folks don't want to be cops or sheriff's deputies," said Evans, who has a military and law enforcement background. "And so without actually having people out in our communities, out on the streets to interdict these crimes and stop these criminal actions from happening, you can have all the programs in the world, but you're not gonna be able to interrupt the criminal cycles."
On the environment: 'We simply must end our reliance on costly fossil fuels'
During his first State of the State address in 2019, Polis set a date for Colorado to get to 100 percent renewable energy by 2040. This year, he argued his focus on housing will help the state reach that goal.
"Our work around housing and more sustainable development is a critically important part of this progress," he said.
He said he remains focused on investing in clean transportation and accelerating the use of renewables, reducing oil and gas emissions, and holding polluters accountable, pledging to distribute $120 million dollars in clean energy tax credits.
"With this tax relief and incentives, we can improve our air quality, accelerate innovation, and make more rapid progress towards our goals, while saving people money at the pump and on their utility bills, and increasing access to clean, low-cost transportation options."
He also said he would push to make sure Colorado conserves water, and moves forward with water projects.
Senate Minority Leader Paul Lundeen said he doesn't think the various green housing policies have helped lower costs so far. He points to a law from last year that creates model electric, solar and low-energy building codes, which he argues will raise the cost of new housing.
"There's a priority question, which is more important: making housing more affordable or pursuing a climate agenda through electrification? And so that's part of the challenge," Lundeen said.
.