As major presidential candidates announced policy pledges ahead of the March 9 election, civic groups called for candidate Yoon Suk-yeol of the conservative People Power Party (PPP) to reveal plans to expand public healthcare services.
Candidate Yoon's health and medical pledge contain only problematic policies, including those to allow large hospitals to set up branches and further squeeze public hospitals to take care of Covid-19 patients," said a statement issued jointly by the Good Public Hospital Creating Movement Headquarters and the Korean Federation of Medical Activist Groups for Health Rights last Friday.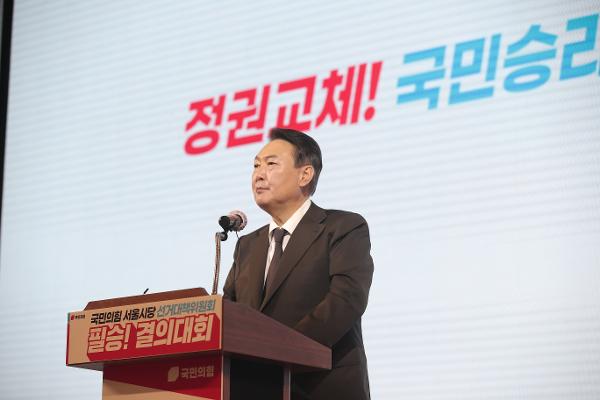 There is no direction at all for the expansion of public healthcare, the statement pointed out.
"Far from making promises to expand public hospitals, candidate Yoon says he will turn public hospitals into institutions exclusively responsible for infectious diseases," it said. "As public hospitals focused on treating Covid-19 patients over the past two years, the consequent medical gap has sacrificed the vulnerable class. However, Yoon is pleading to send poor patients into harm's way."
Terming Yoon's healthcare pledge as a failure as it only seeks to expand the private healthcare market and virtually gives up public healthcare, the statement strongly criticized. "The conservative party candidate for vowing to fatten large private hospitals while turning a blind eye to that reality that public healthcare infrastructure is deplorable," it said.
The two civic groups also pointed out that the expansion of private hospitals would not be enough to solve the issue of essential healthcare.
"Candidate Yoon has promised to allow the establishment of giant private hospitals' branches under the pretext of solving essential regional healthcare problems," it said. "However, large private hospitals are highly unlikely to set up branches in vulnerable areas, or, if they open ones, the branches will hardly play a proper role."
The two groups also criticized Yoon for promising to provide economic incentives for private hospitals responsible for essential healthcare without expanding sickbeds for public purposes.
"However, this will not solve the problem of the essential healthcare problem," they said.
They then urged Yoon to announce a policy platform to expand health services, including beefing up the medical workforce.
"There are neither promises to replenish the nursing workforce nor plans to increase doctors in candidate Yoon's pledge. The medical community is complaining of extreme manpower shortages, but he fails to provide solutions," the statement said. "Given his campaign pledges, the public healthcare will go back even further, and the public's lives will face a greater crisis if PPP takes political power."
Emphasizing that the situation of weighing profits and lives in crises should no longer be repeated, the groups reiterated their calls for Yoon to immediately withdraw his medical market privatization pledge disguised as strengthened public healthcare and make health service pledges that can genuinely protect the lives and safety of the public.
"Voters will scrutinize who will strengthen the public nature of healthcare and verify it appropriately in this election," the statement said.