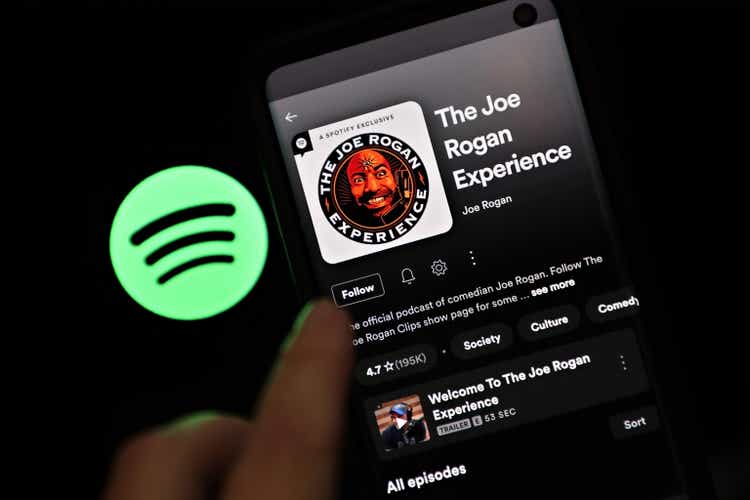 A few weeks ago I published an article explaining my thesis for buying shares in Spotify (NYSE:SPOT). In that article, I argued that Spotify has strong market leadership in music streaming, but is expanding into other areas (e.g., podcasts, audiobooks, and live audio events), increasing opportunities for monetization and gross margin expansion. Spotify also benefits from several long-term tailwinds – such as the secular decline in radio and increasing consumer preferences for personalisation – and is led by a visionary founder (Daniel Ek) with significant skin in the game. All of Spotify's main top-line metrics, including total monthly active users (MAUs), premium subscriber count, and total revenue growth, have grown at a 20%+ CAGR since Q1 2018, increasing Spotify's market share of the global audio streaming market. The kicker? All of this for 3x forward sales and 11x forward gross profit.
Within days of publishing that article, Spotify found themselves caught in the middle of a media controversy related to a number of Joe Rogan Experience podcast episodes which were deemed by many to be spreading misinformation about COVID-19 vaccines. As a consequence, a number of famous musicians (e.g., Neil Young and Joni Mitchell) withdrew their music from the platform and a number of media outlets have speculated that this could be the start of a 'mass exodus' of Spotify users.
While these events could impact Spotify's financials and brand reputation in the short-term, I personally think this will turn out to be a non-event. Just think about all the media controversies and public backlash Meta Platforms (NASDAQ:FB) shrugged off in their stellar run from 2016-2021 where shares rose more than 200%.
When making investment decisions, I prefer to look at financial results and conference call transcripts, rather than media reports and public consensus. In this short article, I break down Spotify's latest Q4 2021 results and provide important context for their weaker-than-expected guidance for Q1 2022.
Strong Q4 2021 Results
1) Continued organic growth in total MAUs and premium subscribers
In Q4 2021, Spotify continued their trend of organic growth in total MAUs and premium subscribers, with both growth rates accelerating from the prior quarter. Total MAUs increased to 406m (+7% QoQ; +18% YoY), which was at the higher end of their guidance for 400-407m. Total MAUs increased > 10% YoY in all regions, including Europe, North America, Latin America, and Rest of World.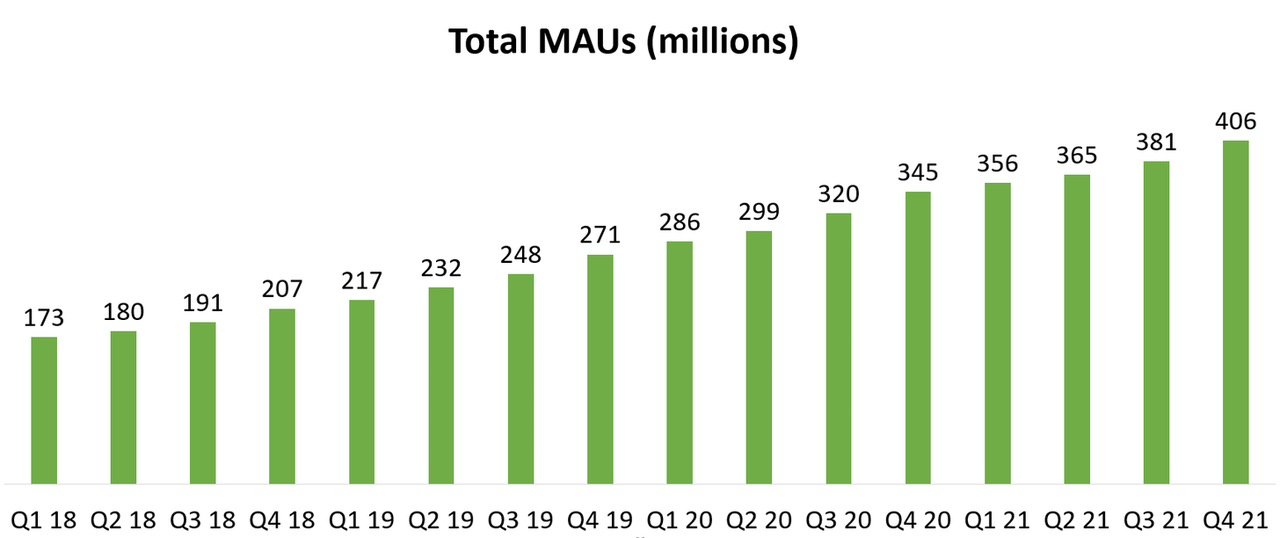 Growth in premium subscribers was also strong, reaching 180m (+5% QoQ; +16% YoY). Similar to total MAUs, the number of premium subscribers was at the high end of Spotify's guidance for 177-181m. This growth in premium subscribers is even more impressive when considering that Spotify shortened the length of their holiday promotional campaign during Q4 from six weeks to four weeks.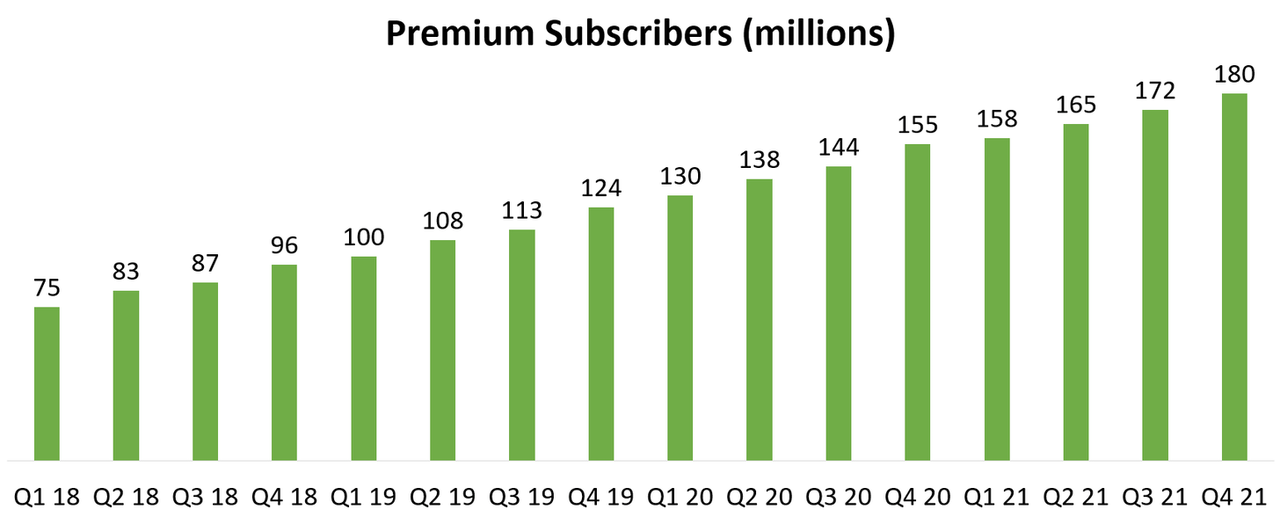 2) Impressive growth in both premium and ad-supported revenues
As we've come to expect, Spotify reported another quarter of > 20% YoY revenue growth. Total revenues were slightly ahead of guidance and increased to €2.69b (+8% QoQ; +24% YoY), driven by 22% YoY growth in premium revenues and 40% YoY growth in ad-supported revenues. This was the first quarter where ad-supported revenues accounted for more than 15% of Spotify's total revenue.

Daniel Ek (NYSE:CEO) discussed this strong demand from advertisers in the conference call:
We see an enormous amount of demand from advertisers. And the #1 thing that we're stretched for at the moment is more inventory.
Seems like a good problem to have.
3) Growth in podcasts shows no signs of slowing down
At the end of Q4, Spotify had 3.6m podcasts on their platform, up around 13% QoQ from 3.2m at the end of Q3. They also reported an impressive > 10% QoQ increase in the number of total MAUs who engaged with podcasts in the quarter. Given that podcasting advertisement revenue is a big driver of gross margin expansion in the medium-term, increasing awareness of, and engagement with, podcasts is crucial.
Spotify also extended their market share lead over Apple Podcasts (NASDAQ:AAPL) in the quarter. And Daniel Ek seems to believe the growth will continue in 2022:
Q4 also saw strong performance across podcast metrics, and we've amassed highly engaged audience that is listening more than ever. And last quarter, we confirmed that Spotify had become the #1 podcast platform U.S. listeners used the most, and we continue to see meaningful market share gains. So overall, I'm feeling very good about 2022.
4) Notable gross margin expansion on an annual basis
Spotify's Q4 gross margin was 26.5%, flat YoY and down 20bp from the prior quarter. This was well ahead of their guidance for gross margin of 25.1-26.1% due to shifts in the timing of some investments from Q4 2021 to Q1 2022, impacting subsequent guidance (more on this later). So, a beat on guidance but not that impressive with that context in mind.
While Spotify's gross margins can be lumpy on a QoQ basis, annual trends paint a clearer picture. After plateauing from 2018-2020, Spotify's gross margins expanded in 2021 to 26.8%, 120bp ahead of their 2020 gross margin of 25.6%.
5) Continued positive free cash flow and (almost) profitable on an operating basis
Spotify reported positive free cash flow of €103m in Q4, extending their streak of consecutive positive free cash flow quarters to seven. With this positive free cash flow, Spotify was able to repurchase another €59m of shares throughout Q4 at an average cost basis of $222.42, shrinking the number of shares outstanding and increasing free cash flow per share.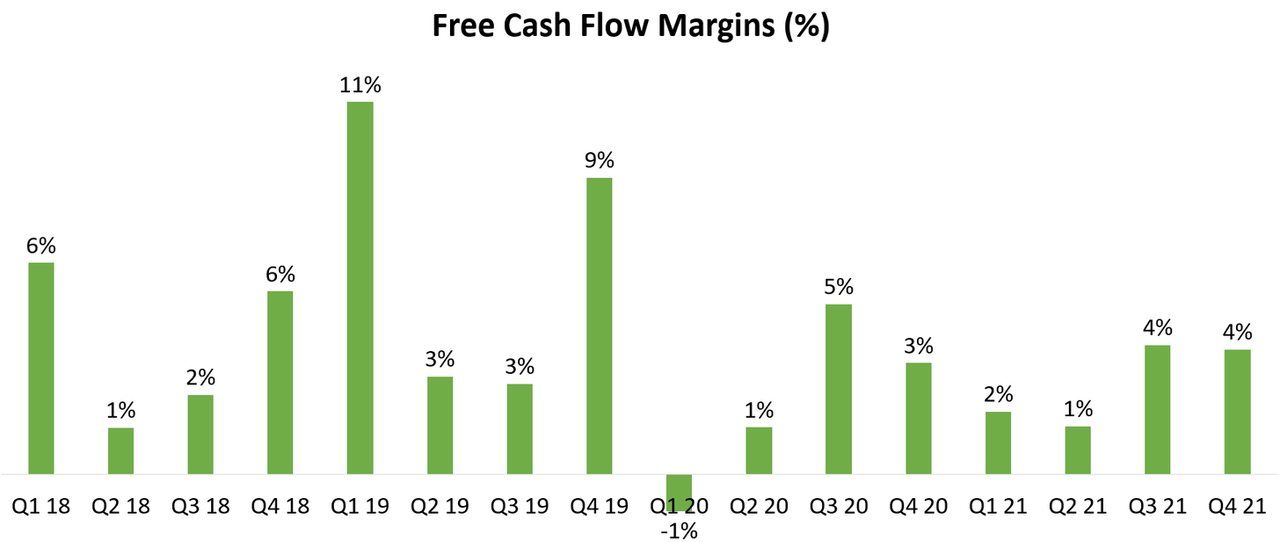 Spotify also reported an operating loss of (€7m), representing a -0.3% operating margin. While still unprofitable on a GAAP basis, this was well ahead of their guidance for an operating loss of between (€72m) to (€152m).
6) Some insight into Spotify's pricing power
Spotify's CFO, Paul Vogel, made an interesting comment during the Q4 conference call which points to Spotify's pricing power:
I go back to earlier in the year, we did make some price increases. We feel really good about the churn characteristics there, wasn't anything material as well as gross intake where there wasn't any material changes.
Some commenters on my previous article argued that Spotify has limited pricing power as people can easily switch to competitors like Apple Music or YouTube Music (NASDAQ:GOOGL). I take the opposite perspective. I believe that Spotify benefits from powerful network effects as they have access to the widest range of music and podcasts (unless you're a Neil Young or Joni Mitchell fan), and has an enormous data advantage relating to customer listening behaviour which manifests in better predictive algorithms. This comment from the CFO suggests that Spotify may indeed have strong pricing power. And Spotify – unlike other streaming businesses like Netflix (NASDAQ:NFLX) – has barely begun to flex this pricing power.
7) Response to the Joe Rogan controversy
I won't dwell too much on this point as I think the long-term impact on Spotify's business is negligible and the whole situation has been blown way out of proportion by the mainstream media. However, I will mention one comment from the conference call. When asked about the effect of the Joe Rogan situation on churn, Daniel Ek noted:
In general, what I would say is too early to know what the impact may be. And usually, when we've had controversies in the past, those are measured in months and not days. But I feel good about where we are in relation to that. And obviously, top line trends look very healthy still.
To appease those who have criticized Spotify for spreading misinformation, Spotify will now include a medical disclaimer on all podcast episodes involving discussions of COVID-19 vaccines, which I think is a sensible and minimally disruptive solution.
Q1 2022 Guidance: The Market is Overreacting to Short-Term Noise
If you're looking for a reason why Spotify's share price dropped 17% after release of their Q4 results, you won't find it in the above figures as all of Spotify's core metrics either exceeded or were at the high end of their guidance range released to the market at the end of Q3.
The main reason that shares dropped were (1) weaker-than-expected guidance for Q1 2022 and (2) a rather perplexing decision from management to stop providing annual guidance, which I believe increased investor uncertainty as to whether soft Q1 guidance was a blip on the radar or indicative of a tough 2022 to come. After reading through the conference call transcript and watching Daniel Ek's recent media appearances, I am confident that soft Q1 2022 guidance bears little predictive value for the rest of 2022. Let me explain.
Total MAUs and Premium Subscriber Guidance
Spotify guided for total MAUs to reach 418m in Q1 2022, representing 3% QoQ growth and 17% YoY growth. Not too bad. However, guidance for premium subscribers was weaker at 183m, a mere 3m increase from Q4 2021 (+2% QoQ; +16% YoY).
However, Spotify expects growth in total MAUs and premium subscribers to return to normal levels throughout the remainder of 2022:
We do not anticipate any material changes in the trajectory for net growth in MAUs and [premium] subs in 2022 when compared to the net growth we experienced in 2021 … With respect to the subscriber net adds in Q1, please keep in mind that we expect a different level of seasonality for this metric over the course of 2022 due to anticipated promotional campaign activity and other initiatives. (Paul Vogel, CFO)
Paul Vogel again re-iterated this same point later in the conference call:
If you look at the net additions we've achieved for both users and [premium] subs in 2021, we don't see any material change in that trajectory into 2022.
In other words, the slowdown in total MAU and premium subscriber growth forecasted in Q1 2022 is due to seasonal factors and Spotify deliberately reducing promotional activity, rather than a significant increase in churn. Spotify added 25m net new premium subscribers in 2021, so based off these comments from the CFO, I would expect Spotify to add at least 20m net new premium subscribers in 2022.
Indeed, Paul Vogel hinted in the conference call that investors should underweight Q1 numbers when forecasting annual growth trajectories:
What we've seen over the last couple of years is Q1 has become increasingly less important for us for yearly growth.
Here's another quote:
When you look at Q1 in general, it continues to become just a smaller part of our overall subs picture every year. Part of it is just the hangover or the follow-through from how strong Q4 tends to be, and it's also a part of how we've now adjusted our promotional cases throughout the rest of the year.
My initial reaction to these comments from the CFO was irritation that Spotify was attempting to misconstrue the situation to justify poor business execution, rather than owning up to their mistakes. However, when I dug into Spotify's growth in premium subscribers from Q4 to Q1 for the past four years, it appears there is truth to the CFO's claims. See below:
Q1 2019: +4m premium subscribers (vs. LTM average of +6.3m adds per quarter).

Q1 2020: +6m premium subscribers (vs. LTM average of +7.5m adds per quarter).

Q1 2021: +3m premium subscribers (vs. LTM average of +7.0m adds per quarter).

Q1 2022 (forecasted): +3m premium subscribers (vs. LTM average of +6.3m adds per quarter).
Thus, since Q1 2019, growth in premium subscribers from Q4 to Q1 has consistently lagged growth over the prior 12-month period, likely due to a combination of seasonal factors and deliberate reductions in marketing spend. It has also been a poor predictor of future growth for the next 12-month period. Myopic investors who sold Spotify shares based on a (historically) incorrect assumption that weaker growth in premium subscribers in Q1 2022 would be indicative of a tough 2022 have done themselves a major disservice, ignoring that this same pattern has occurred each year since 2019.
Revenue Guidance
Investors also seem concerned with Spotify's revenue guidance. In Q1 2022, Spotify expects total revenues of €2.60b, up 21% YoY but down 3% QoQ, leading some to speculate that this might be due to increased churn in premium subscribers following the recent Joe Rogan controversy. As mentioned earlier in this article, Spotify has not experienced a material change in core top-line metrics in the past few weeks. So, what gives?
I have two possible explanations. Firstly, if we look at Spotify's QoQ revenue growth since 2018, we can see that Spotify has generally reported QoQ declines in total revenue from Q4 to Q1, so this appears to be a continuation of a normal seasonal trend. See below:
Q1 2018: -0.9% QoQ revenue decline (vs. LTM average of +6.1% QoQ revenue growth).

Q1 2019: +1.1% QoQ revenue growth (vs. LTM average of +7.4% QoQ revenue growth).

Q1 2020: -0.4% QoQ revenue decline (vs. LTM average of +5.2% QoQ revenue growth).

Q1 2021: -1.0% QoQ revenue decline (vs. LTM average of +3.9% QoQ revenue growth).

Q1 2022 (forecasted): -3.3% QoQ revenue decline (vs. LTM average of +5.0% QoQ revenue growth).
Secondly, I think Spotify management could be taking a conservative stance and forecasting a transient reduction in advertisement demand due to the potential public backlash for advertisers of being associated with Spotify. If this turns out to be correct, I would expect ad-supported YoY revenue growth to decrease to the mid-20% range in Q1 2022, down from 40% in Q4 2021 and 75% in Q3 2021. I do not expect this trend to continue and would not be surprised to see Spotify smash their revenue guidance out of the park in Q1 2022.
Gross Margin and Operating Margin Guidance
Spotify forecasted gross margins in Q1 2022 of 25.0%, down 150bp QoQ and 50bp YoY. However, this expected decrease in gross margin is due to Spotify shifting the timing of some costs from Q4 2021 to Q1 2022, which resulted in elevated Q4 2021 gross margins that were 40bp above the top end of Spotify's guidance. So, if we average gross margins across the two quarters, we get a more acceptable 25.8%.
Paul Vogel guided in the Q4 conference call that he expects a similar rate of gross margin expansion from 2021 to 2022 that occurred from 2020 to 2021. If this turns out to be correct, Spotify should report 2022 gross margins around the 28% range.
Looking into 2022, we expect a continuation of the favorable gross margin trend you saw in 2021 for our underlying business as we grow advertising and drive further growth in marketplace contribution. We also expect improvement in our core podcast margins, both on the OE front as well as on Megaphone.
I understand the market's frustration with the slow pace of gross margin expansion and would expect some drastic sell-offs in future quarters if gross margin remains unchanged in the 25-26% range. At some stage, management need to show gross margin expansion to the market, rather than just talking about it.
With regards to operating margins, Spotify guided for operating losses to widen to (€67m) in Q1 2022, which would represent their largest operating loss since Q4 2020. In an environment where investors have once again started to value companies based on earnings (rather than sales), guiding for widening operating losses clearly had some investors running for the hills. However, Daniel Ek outlined in the conference call that Spotify is deliberately sacrificing short-term profits to maximise long-term value creation:
We could probably be more harvest mode right now and show near-term more incremental margin expansion. But given what we're seeing in the core business, we feel like the investments are really going to pay off to drive even bigger long-term gross margins in the future.
Daniel Ek is a leader who epitomises long-term thinking. I am happy to continue to pick up shares below $200 as Mr Market mistakes a lack of short-term gross margin expansion as a sign that Spotify will struggle to reach their medium-term gross margin guidance of 30-40%.
Conclusion
Overall, Q4 2021 was a very strong quarter for Spotify. They added 25m net new MAUs, 8m premium subscribers, and continued their streak of 20%+ YoY revenue growth and positive free cash flow. What had investors worried was their soft guidance for Q1 2022. However, the conference call provided important insight into this soft guidance, and both Daniel Ek (CEO) and Paul Vogel (NASDAQ:CFO) re-iterated numerous times that Q1 2022 bears little predictive value for the rest of 2022. Given this context, I do wonder why Spotify chose to withdraw annual guidance at this specific quarter. While others might view this decision with a more sceptical lens, I see no reason to doubt Daniel Ek or management, given their consistent track record of beating guidance since IPO and Ek's multi-billion dollar stake in the business.
All things considered, I am comfortable with the investments Spotify is making to expand their service offering and cement their market leadership over competitors like Apple Music. I would've appreciated more colour from management as to the progress of other strategic innovations, such as live audio events, and investments in originals and exclusive podcast content, but I guess we can't have it all as investors.
Following the sharp drop following Q4 results, I was able to purchase more shares at a price of $160.25, bringing my average cost basis to $187.18. I plan to continue to add shares over the coming quarters on continued business execution.